Erectile Dysfunction Treatment Specialist in Jacksonville, FL
If you have a rare or occasional occurrence of ED, be easy on yourself, it happens. REVAMP Wellness Center for Men specializes in Erectile Dysfunction (ED) treatment to improve men's sexual health. For more information,

call us

or

schedule an appointment

online.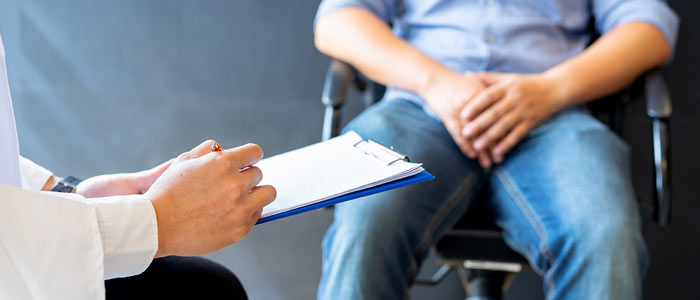 Table of Contents:
What is the main cause of erectile dysfunction?
How do you treat erectile dysfunction?
When should you see a provider about ED?
What are the symptoms of erectile dysfunction?
Erectile dysfunction is the most common sex problem that men talk to their providers about. It is estimated that 30 million men in America are dealing with this. Erectile dysfunction is defined as having trouble getting and keeping an erection. Revamp can be a good place to get the help you need in addressing men's health issues.
What is the main cause of erectile dysfunction?

Erectile dysfunction can happen from time to time.  This is not something rare, but when it becomes more frequent or happens more regularly, then something is probably wrong and should be treated. Erectile dysfunction or ED can happen due to a number of factors.  Most of the time it is due to a reduced blood flow in the penis, or it can be due to nerves that have been harmed.  Other common causes have to do with stress or other emotional reasons.  ED can be a warning sign of serious health problems, like hardening of the arteries, heart disease, diabetes or high blood pressure.
 
ED becomes more common with age, but growing old is not always going to be the cause of ED. Some men remain sexually functional into their 70's. ED might be an early sign of a serious health problem. Finding and treating the cause of ED is a vital first step.
 
The physical causes of ED are:

– Not enough blood flows into the penis
– Blood will not stay trapped in the penis
– Diabetes can cause nerve damage or small vessel disease
– Nerve signals cannot reach the penis
– Cancer treatments or surgeries done in the pelvis region
– Drugs used to treat other medical conditions can have an impact.
 
There are also emotional issues that can cause ED:

– Depression
– Stress
– Anxiety
– Worrying about sex
How do you treat erectile dysfunction?

Before ED can be treated, it must first be diagnosed.  Treatment will depend on what is causing the ED. For most, a physical exam and check on medical history are what the provider will need to diagnose ED. If there are chronic health conditions or the provider suspects an underlying condition, then further testing will be done, or you may be referred to a specialist.
 
ED can be treated in a few different ways. Oral medications are probably the most common way that is used to treat ED.  There are a number of them available with a prescription. Other options include a self-injection before having sex, an intraurethral suppository or testosterone treatment may be required. In extreme cases, a penile implant may be required.
When should you see a provider about ED?

If the problem gets more frequent or has become a chronic issue, then it is probably time to see a provider. If you are being treated for another health concern and ED starts after that, it may be time to talk to your provider. If your ED is creating a good deal of anxiety or threatens your sexual relationship, then a discussion with your provider will be very helpful. This is a topic that we don't often hear about, but if your erection is painful, it is best to discuss with your provider.
What are the symptoms of erectile dysfunction?

The most obvious symptoms of ED are that you are not able to keep an erection firm enough to have sex or you cannot get an erection at all. When this becomes frequent or all of the time, then it is a problem. Other symptoms are due to the fact that you are not having the sex life that you want with your partner. The symptoms come as low self-esteem, depression, and relational problems. Since ED is often related to cardiovascular problems, this can be a warning sign that there is an underlying cause.  Remember, a healthy heart leads to a healthy sex life. We serve patients from Jacksonville FL, Paxon FL, Arlington FL, Riverside FL, Lakeshore FL, and Crystal Springs FL.